Sustainable Stormwater Management Consulting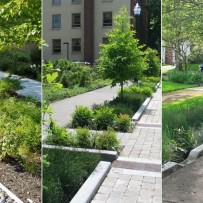 "Low Impact Development" (LID) is a sustainable stormwater management strategy utilizing land planning and engineering strategies coupled with attention to design and aesthetics to manage stormwater runoff. LID is an alternative to conventional stormwater management practices, which can be more disruptive to local environments. LID encompasses the use of structural devices (engineered or "man-made" systems) and non-structural devices (vegetated, natural, organic systems). This approach implements small-scale hydrologic controls to replicate the pre-development hydrologic regime of watersheds through infiltrating, filtering, storing, evaporating, and detaining stormwater runoff close to its source. While LID is not the answer to every runoff challenge and is still evolving as an applied methodology, its practices can offer major benefits to businesses and communities.
LID site plans consist of Integrated Management Practices that function as a system to provide water quality controls and runoff peak and volume controls in an attempt to match the pre-development runoff/hydrologic functions for the site. Contact GSS for more information about our approaches to sustainable stormwater management consulting and systems.