GSS Wins Excellence in Environmental Engineering Prize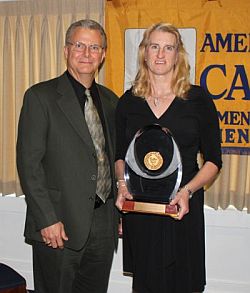 GSS was awarded the North America Grand Prize for Small Projects in the Excellence in Environmental Engineering and Science (E3) Competition. This competition is based on the environmental sustainability aspects of the water treatment program and GSS sub consulting role at the Baltimore County Public School Project. The E3 Competition is run by the American Academy of Environmental Engineers and Scientists with the purpose of recognizing and promoting quality environmental engineering and science. GSS was recognized for its E3 award at the Academy's Awards Luncheon on April 25th, 2013 at the National Press Club in Washington, DC.
Chem-Aqua® and Green and Sustainable Services (GSS) have implemented a solid chemistry water treatment program for Baltimore County Public Schools (BCPS), the 26th largest U.S. school district. The custom-designed water treatment program for boilers, cooling towers, and closed loop systems has improved environmental sustainability, reduced safety concerns, and helped fulfill the school district's small business goals. Furthermore, the solid chemistry program helps BCPS conserve water, is less hazardous than traditional liquid water treatment programs, and helps reduce the facilities' carbon footprint.
As a team, Chem-Aqua® and GSS offer cost-effective, environmentally responsible water treatment programs. GSS functions as a water treatment consultant performing Quality Control, Quality Assurance, and Site Assessments for the water treatment program at BCPS. Thomas Smith, GSS Chief Technical Officer, is a Board Certified Environmental Engineer with specialties in Water/Water Treatment and Environmental Sustainability. Mr. Smith works directly with Kevin Hild, Chem-Aqua® District Manager, and Chris Hill, Chem-Aqua® Sales Engineer.
A Chem-Aqua® Service Representative visits all BCPS schools under contract at least once every month, depending on site conditions, and GSS routinely reviews the Chem-Aqua® field service reports and water treatment tests for each school. The BCPS solid water treatment program consistently:
Conserves water
Reduces wastewater
Increases energy efficiency
Decreases equipment downtime and minimizes maintenance needs
Lowers overall operations expenses
Combined, these factors define an environmentally sustainable water treatment program.